A million articles have been written about curb appeal because it is a crucial component of the home sale process. It's used to lure the buyer the same way we use jewelry, makeup, great clothes or a fabulous hairdo to nail a job interview. Pretty sells!
One of the biggest factors for the curb appeal is the basic home color. If you're looking for a home here in the Triangle area, you're probably looking through the listings feed on this website, and I'm confident that you are seeing some really beautiful properties. If you see a bad exterior photo on the listing, you'll move on quickly. Although the house may be wonderful, if it fails to fit your idea of "home" you'll pass it by. Subconsciously you know what is right, and part of what is right has a lot to do with color and what that represents.
Here's a personal story to illustrate this issue: I once bought a home in Holly Springs that was a really funky color. It was a fantastic house, but the exterior color was an unappealing shade of green. It was the only thing I hated about the house. I knew the house was right for me, so I held my nose and purchased it. I used to jokingly call the house color "Clinique green" after the makeup manufacturer, but some of my neighbors actually referred to the house as "that God awful green house." It was kind of humiliating to me! The home itself was beautiful, but the color was not appealing at all. I painted as quickly as I could, and I went for a look that was in keeping with the cape cod style and the neighborhood fashion. It changed from that "god awful green" to a soft pale yellow. The door and the shutters were painted a chili pepper red, and some window boxes were added.
While it was the green color, not ONE person ever told me that the house was pretty, or even appealing. After the upgrade, I frequently received unwarranted offers to buy it because it was "just so pretty."
It's was like those makeover shows. My ugly duckling finally got to shine!
Home colors are really personal, and you can get away with a lot of different options based on your neighborhood, but generally the Triangle area buyer likes a more classic, traditional style, and more muted colors. If you try that green color on your house you will have to wait for an adventurous soul like me, and we will pass on it unless there's something else to move us forward. Unless you're in an adventurous neighborhood, it is lean toward a more muted, conservative and understated look think "tuxedo instead of Hawaiin shirt".
If you have a smaller home, you may be able to get away with deeper colors, but make sure that your neighbors also have that deep saturation of color otherwise your house will stand out and look cheap. Check out these examples of a good use of color on a smaller home. By the way, these are actual photos from our Triangle Multiple Listing Service site where all the houses are listed, and today these homes are on the market.
These shades of blue are strong, but the homes aren't huge, they're more tall than wide, so they can accommodate the saturation of color, the heavy trim also helps to break it up considerably. Both of these homes are located in neighborhoods that are geared toward interaction with neighbors. The homes are located close to each other, the smaller lots and the feeling of friendliness and fun help to lend more appeal to the deeper tones. The color tells you that it is an active community - full of life. You'll see these more vibrant colors as you get closer to the beach and then it is used to show you that you're in a different spot now. You're on vacation, you're having fun. Fun is color. Stability is muted or absence of color (white, black and the shades of gray between them).
Another example of a bold use of color is this small home with two tones and a red door! It's so unique that you actually are drawn in with this interesting look. I think the dual colors even give the structure depth.
The interior pictures are spectacular in this little house, and it's in a well-liked area, so it will attract buyers for sure. This is a very daring move though, so don't try this on your standard cape cod. You need to have the lines and the detail to pull it off and remember that although this looks great on this beautiful contemporary, it is not the "classic" style that's more favored by residents of the area. Unique homes limit the buyer pool.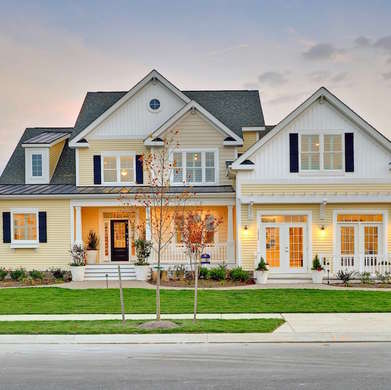 The homes above both fall into the yellow range, the deeper yellow is used on the smaller home, while a muted yellow is used on the larger home. Remember, the more muted the tone, the more classic the home will appear. As you can see this bolder yellow really works on the smaller home. It gives it a "cottage" look. Personally, that deep yellow home just looks like a "happy" house. I want to live there.
I have heard before that a yellow home sells faster than any other color. I don't know if that's real scientifically proven, but if I saw either one of these homes, I'd be clamoring to learn more. (Plus, I know from my experience with that green-gone-yellow home was incredibly positive).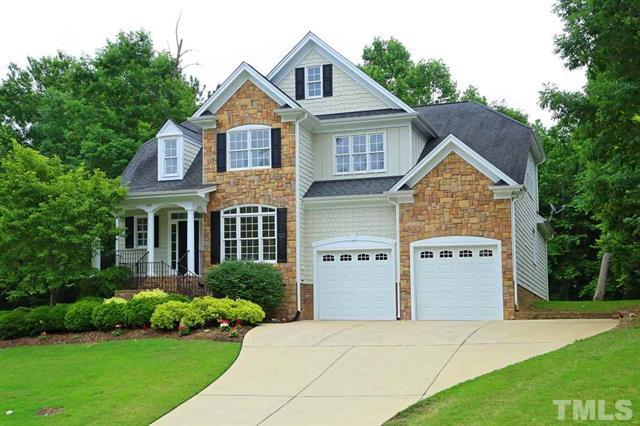 This last option is a classic American standard. The white home with black shutters and a black or red door. Add the American flag, and the buyers will come running. It is reminiscent of apple pie and mom's home cooking. I live in this classic white style currently, and because I'm an adventurous type, I painted the door red, and added the same red to my front porch. It's a sweet look, stable, yet fun. I get compliments and the same requests to sell.
When you're thinking of painting the exterior of your home, remember the key is to know your surroundings and don't go against the general feel of the neighborhood. If you have a pastel home in a classic style neighborhood it will appear garish, whereas if you are in a Charleston inspired, "love your neighbor", development it will probably look marvelous.
The second picture above is a great example of what to do if you have any brick on the front of your home. If you use a muted off-white or taupe colors for the base your home will have a fantastic look. The white inspires feelings of stability. The color and details on these homes help appeal to the strength of the home.
If you are considering a curb appeal update, or you just want some help with picking out colors whether or not you will be selling, call us. We know what works inside and out, and what you can do to raise the appeal and inevitable selling price of your home. I promise you I'm good at it. You'll be happy for the advice.