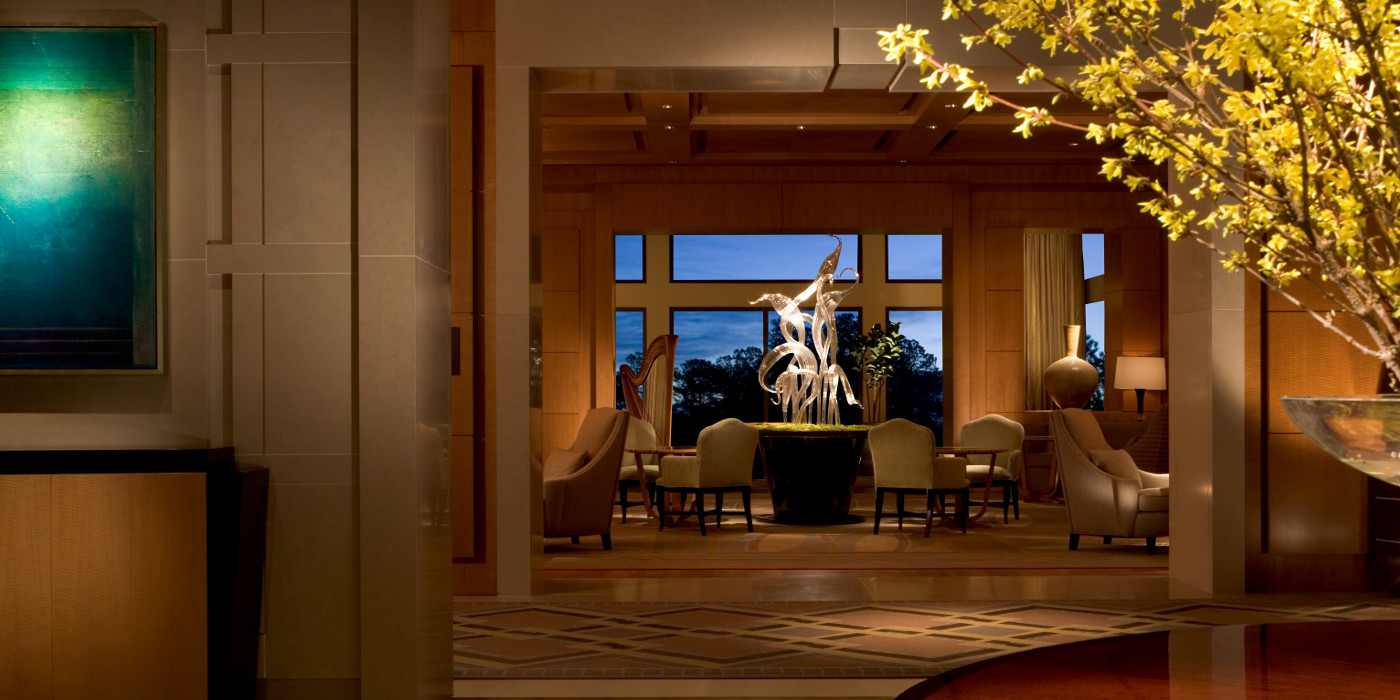 The Umstead Hotel, Cary, NC
(all photos are copied from the Umstead website)
Over the years, people visiting the Research Triangle area would stay at chain hotels and get a very standard American hotel experience. They would come to attend business meetings in Raleigh or visit family in Cary and their hotel experience during the visit would be similar to what they'd encounter in other areas of the United States, there would be no regional "Triangle" experience because they were staying at hotels designed to highlight the averages across the country and not the particulars of our area. The Holiday Inn, Marriott, or other chain hotels are designed to stay similar across the board. If you stay at a chain hotel in Raleigh, and the same chain in New York or California you'll probably experience generally the same level of service, the same type of bed, and possibly even look at the same type of artwork on the walls. Holiday Inn, Marriott and other big chain hotels are pretty wonderful, but you really won't get a feel for the area until you leave the sanctuary of their walls.
So, if you decide to get brave and try to get a good feel of what is the best of the culture of our Triangle area, you would be better suited to stay at a local hotel. One that is designed to capture the spirit of our beautiful area.
What is an example of a hotel that would be a good representative of the best of Triangle area culture?
That, in my opinion, is the Umstead Hotel in Cary.
The Umstead has so much to offer. It is called a hotel, but in my opinion, it is reminiscent of a retreat. Not the stuffy old-timey retreats where you're terrified you'll mess up and use the wrong utensil, or the rustic type where everything feels slightly worn, but instead a beautiful take on what retreat means today. It's warm, welcoming, easygoing, and genteel without being pretentious. A place to reacquaint yourself with the better things in life. During your visit to the Umstead, you can enjoy the beauty of a natural environment, reveal in a fabulous meal, or eliminate stress with a luxurious massage in a highly regarded spa.
You can dine inside or on the veranda overlooking the grounds, and whether you're eating pub food or a full-service meal, you're getting top-notch locally sourced food prepared by culinary staff who take pride in their craft.
Guests can enjoy a massage at the on-site highly regarded spa, browse the gift store, or they can walk the path's surrounding the hotel and take a few minutes to enjoy all the beauty in nature. If you're lazy, you can even just take a seat and look out over the surroundings and I promise you, you'll feel the calm descend on you.
There is a gift store, wonderful artwork, and gracious staff. When you're ready to retire to sleep you'll be happy to see that a chocolate is waiting on your pillow and that the bed is turned down for you. I know a chocolate and a turned down bed sounds like a tiny thing, but when you get that level of service it changes things. You feel cared for, and pampered, and that is a wonderful thing.
It would be hard to imagine walking out of the Umstead feeling like you were not well cared for, or that the world isn't a beautiful place. That, in my opinion, is what the Triangle culture is all about. We're friendly, classy, warm, and surrounded by beauty. We are not stuffy, dusty or battered. The Triangle is young, vibrant and warm, and the Umstead captures that culture perfectly.
So, take a night or two to enjoy the five-star service that the Umstead offers. Trip Advisor rates the hotel a 4.5 out of 5 stars with almost 1,000 reviews, so you know it is worthy of your time and attention. Check out the Trip Advisor reviews here: http://bit.ly/UmsteadReviewsOnTripAdvisor and then, of course, check out the actual hotel at their website: http://www.theumstead.com/